Polyvinyl chloride (PVC) conveyor belts are the standard belts in the industry. They can be used for basic food processing and handling purposes. Due to its durability and ease of use, PVC has become so popular that it has become the third most produced plastic in the world.
PVC coated conveyor belt is best suited for material handling, bakery, meat, fish and milk processing.
These antistatic tapes provide good chemical resistance and are resistant to hot water and steam. Depending on specific needs and conveyor belt manufacturers, flame retardant models are also available.
Limited abrasion resistance and limited resistance to solvents, oil and grease make PVC tapes best suited for fruit and vegetable processing and simpler operations with limited special requirements.
For those who don't know what specifications a belt needs, PVC belts are a reliable choice with a favorable price compared to other conveyor belts.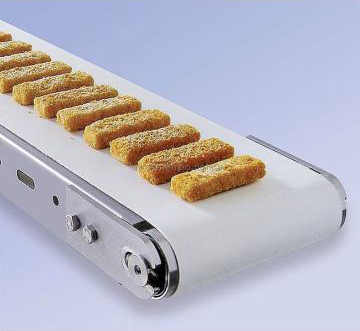 Polyurethane (PU) conveyor belts are perfect for the food industry. They are resistant to all types of grease, friction and abrasive substances.
The basis of these tapes is cord – polyester fabric, one or more of its layers are covered with PU. These materials give the tapes strength, impact resistance and tear resistance.
The working temperature of the tapes is from – 10°C to + 90°C.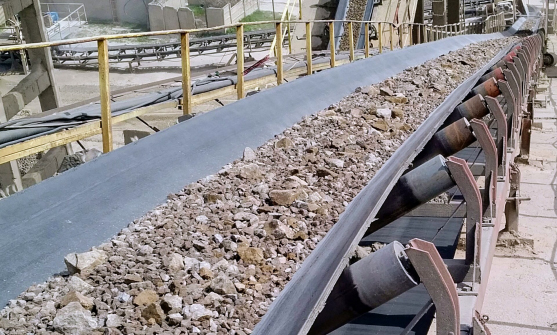 The most commonly used rubber bands are of the following types:
Standard: These conveyor belts consist of multiple EP fabrics with mixed coatings that are resistant to scratches, cracks, cuts and aging due to external factors, and are designed for use in temperatures between -35°C and +80°C.
These belts are mostly intended for transporting limestone, cement, concrete, coal, clinker, fossil materials, inert materials, minerals, glass grit, salt, and other similar materials in medium or large quantities,
depending on the number of fabrics used.
Grease Resistant: These multi-layer conveyor belts are coated with elastomers that are oil resistant and are designed to withstand contact with any type of oil or grease. These tapes are also resistant to aromatic and aliphatic solvents and wear from rubbing and cutting. These tapes can be successfully used at temperatures from 35°C to + 80°C.
Grease and temperature resistant: These multi-layer tapes are coated with multivalent materials to withstand contact with oily and hot products in outdoor environments. The working temperature reaches up to 110-130°C.